It is easy and simple to make your own quote with us!
We know how hard it can be to find the exact quote or personalisation you would like to make your home decorating have that finishing touch.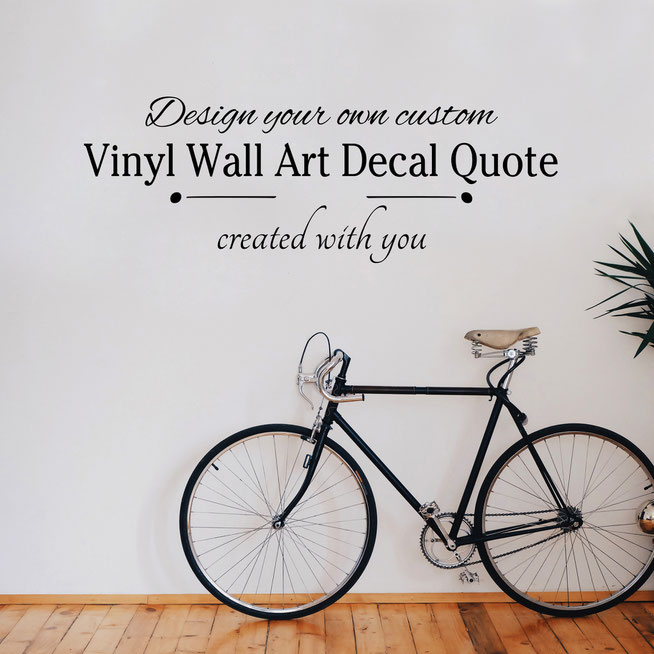 1. Decide which Quote.
Make sure your spelling and phrasing of the words is correct. You can also add your own twist, personality and creativity here, by changing it slightly or adding a name.
2. Style.
We can help you if you're undecided on a font, just give us a style (elegant, retro, historical) you are after. If you would like some inspiration check out Font Squirrel for fonts we can use.
3. Colour.
We have a range of colours you can choose from. We can also order special patterned, textured or holographic sparkly vinyl if you would like something a bit different.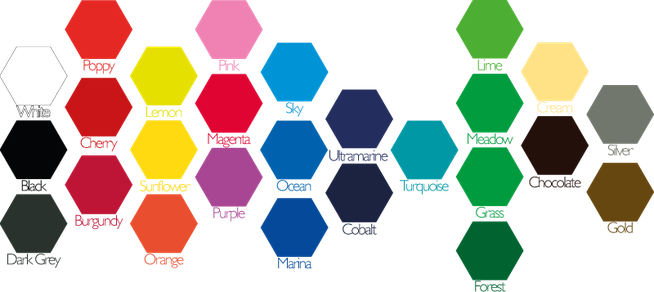 Colours shown are the nearest to on screen, colours will be different when compare with actual vinyl stickers.
4. Check your Wall.
Walls need to be clean and smooth for the decal Quote to stick to the surface. If you wall has bumps or cracks the decal will not stick to it.
If you have freshly painted walls you need to wait at least a week for the wall to dry fully otherwise the moisture from the wall will cause the decal to fall off.
5. Measure.
We need the maximum Height and Width area size of your wall. (Decal stickers can also go on windows, cars and furniture.)
Deciding your size can have a real impact on your room!
Please note we find it hard to cut any text that is under 0.5cm high as it is very small and tears.
6. Contact Us.
Send us your Quote, Style and Measurements.
If you have a Discount Code or Gift Voucher let us know.
7. Payment and Proof
A basic payment quote will be sent and we will send you a image of what your quote will look like.
Depending on your instructions we may send a couple of versions of your Quote until we get it just right.
We may increase or decrease the amount of payment depending on size changes or the amount of colours you choose.
---
---
---
Have a question or would like to order by phone? Call us on 01843 232016 Monday to Friday 10am to 4pm.
---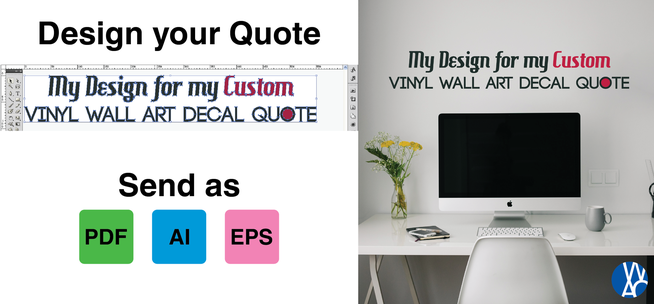 1. File Format
All we need from you is an AI, PDF or EPS file.
Make sure all of the text has been converted to outlined vector files and all paths are closed.
AI files need to be saved as a lower version to maximise compatibility.
Please note we find it hard to cut any text that is under 5mm high as it is very small and tears.
2. Size
Make sure you tell us if the ratio is 1:1, another scale or needs to be a specific size.
3. Contact Us.
Send us your Attachment, Measurements and Colour/Colours.
If you have a Gift Voucher or Discount Code let us know.
4. Payment and Proof
If there are any issues we will make changes and send back a proof.
We many increase or decrease the amount of payment depending on the size changes or amount of colours you choose.
---
---

Material: Vinyl, Matte, Removable self adhesive vinyl, non-toxic, can be wiped clean. (If you would like gloss vinyl please just ask)
Sticks to: Wallpaper, painted walls, painted ceiling, cupboard, furniture, paint, metal, glass, plastic, tiles, wood, mirrors, windows, drywall & plaster
Production: Made-to-Order
Manufactured: Thanet, England, UK
Durability: Virtually lasts a lifetime when applied indoors (up to 10 years).
Fitting: Quick, clean and simple to install or remove.
Fitting a wall sticker is easy as we supply you with fully weeded papered vinyl.
All wall stickers are manufactured by us using a premium matte vinyl that lasts up to 10 years indoors. 
They can be removed with ease during their life time leaving no marks or glue behind on your wall. However once removed they cannot be re-used.