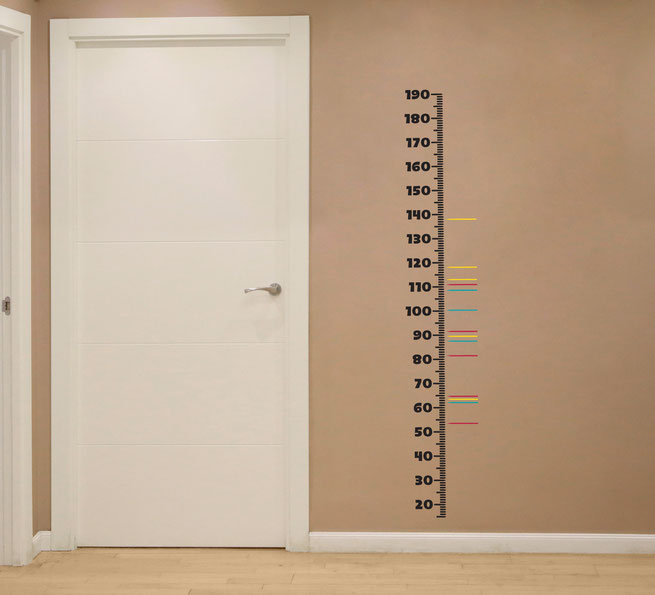 This Height chart has a plain and simple design with friendly looking numbers. With the matching height markers it's a wonderful way to chart your child's growth.
Solve the age old argument of who is taller by adding a growth chart to your home, fun for children and adults.
Measurements
There are different sizes in both metric and imperial. The small sizes will suit the average child up to the age of 12. The larger size is taller than the average height of most people. We can customise the size to go even taller if you think you'll need it, or a taller design will look better in your home.
Ideas
You can keep track of your children's growth by adding markers to the wall.
Photobook or Scrapbooking
You can create your own creative photobook with photos taken next to the height chart. Perfect for creating memories to look back on.
Take a photo once a year on their birthday.
Take two photos a year, one on their birthday and the other 182 days later. 
Take four photographs, one for the first day of spring, the first day of summer, the first day of autumn and the first day of winter.

Grandparents
Perfect to add all your grandchildren's heights to see how fast they are growing! Great if they never visit at the same time so you know who is taller.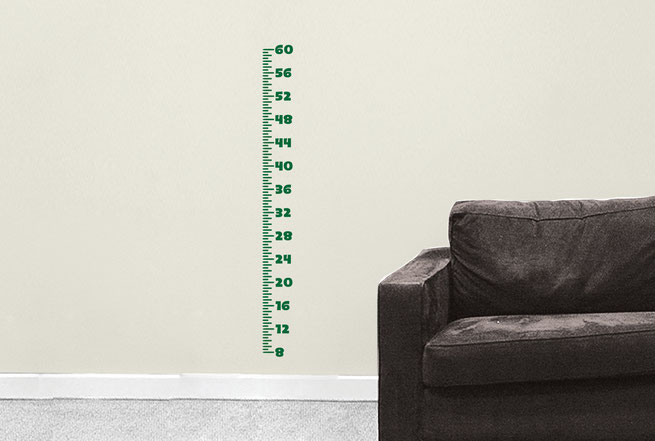 Fitting
The design comes in an easy to fit kit form. When putting the design up you will need a little precision when you are preparing to apply the decal. It is fully possible to apply this decal on your own, but with two it will go a lot faster and easier. Depending on how tall you are you may need a ladder of stool or stand on.
Measure from the bottom of the floor and mark

 in a light H pencil the 

height the design goes up to on the wall.




Use masking tape to fix the design to the wall, use the mark you made to line up the top of the design.




With a spirit level hold it against the design. Line up the edge of the vinyl height markers with the edge of the spirit level. Use masking tape to make sure the design doesn't move.



After double checking the design is in the right place slowly peel the backing paper away from the vinyl at an slanted downward angle. 
You will need to rub on the top of the application paper to a fix it to the wall. It may peel off again while you are peeling the backing paper away but if you go slowly enough you will be able to press the vinyl back on the wall.

Designed and Manufactured in Britain