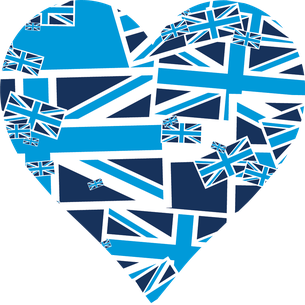 We have a new collection of printed British sticker Love Hearts that use the UK flag as a contemporary collage take on the Union Jack. 
Perfect for those with a love of Union Jacks, travel and flags!
Colours
We have a wide selection of colours to match your personal home decorating. There include Traditional colours; Vintage, muted Grey, Brown along with vibrant contemporary colours; Pink, Green, Purple, Orange and Light Blue in various mixes.
Design Ideas
The stickers come backed on a sheet of application paper for cutting around to separate the design. You are free to arrange the hearts in your own design; a neat three by three pattern or a creative scattered pattern around the room.

A neat organised 3 by 3 Pattern
This arrangement involves measuring your wall to get the pattern straight. You will need to decide how high up and how far in from the edges of the wall you want the pattern to sit. The easiest way is to measure where you want the centre heart to go and temporarily fix the heart with masking tape before you apply it to the wall. You can use this centre point to measure out how far you want the other hearts apart from each other.
In a Straight Line
This pattern is best applied using a spirit level to draw a straight line in light pencil across the wall. Using this line you can arrange the hearts to be placed along it. Use masking tape to fix them in place while you stand back from the wall to judge if they are straight, a lot of tweaks might be needed before you are happy!
Scatter around the room
A fun and easy way to put them on the wall! The hearts just need to be cut around and then dotted around the room.

On Furniture
Vinyl will stick to almost any surface as long as it is flat and smooth, like wooden wardrobes, metal fridges or plastic boxes.
Book Covering & Journals
The small sizes we have for sale will fit neatly onto school books to cover and decorate them.

On Windows
The vinyl these heart stickers are printed on will stick to windows.

On Cars
These hearts can go on cars too, if you ask us we can print these on gloss vinyl that will match with the glossy finish of your car. They will last up to a year with outdoor use in sunlight before they start to fade and become less vibrant.
We currently offer two standard sizes, but we can print larger sizes if you ask us to. We can also customise the colours, just send us your selection of colours and we will make it perfect just for you.



Designed and Manufactured in Britian